History
Uppingham in Bloom is over 30 years old. Founded in 1983 when three traders of the town's Chamber of Trade got together and decided to have floral displays at their premises. These early pioneers – June Smith of Stocks, Mary Lloyd of Minerva and Maureen Sumner of Clutter, moved into action and set about involving others. Approaches were made to traders and businesses in the town and the response was amazing. Each year saw more colour in the High Street and Market Place.
One summer a National Judge from Britain in Bloom passed through the town and was sufficiently impressed to suggest that Uppingham enter the competition. If Uppingham was to compete, the whole town needed to be involved. Groups in the town, from the Town Council, the Women's Institute, the Church and the Scouts were invited to help form a committee, which was set up in 1988.
Traders and businesses have generously funded central displays from the start. Individuals were encouraged to join the "Friends of Uppingham in Bloom" and their contribution with spade or cash has been vital. Willing volunteers from the Beeches residents association, the Rotary, and the WI have never failed to help dig, weed, plant or prune.
Initially planting was sourced from Gates Nurseries. Then Ash Tree Nurseries and the keenness of Salmons cause us to look nearer to home. Rutland Garden centre then took over the planting, and now Uppingham School grounds department sources, grows, plants and waters our displays with enormous thanks. We also have help form Skip and Lisa in Caldecott to plant areas such as the Cricket Club and donate plants to Leighfield school garden and the Scouts.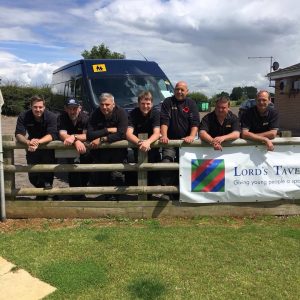 We have been supported over the years with grants from the Town Council, but have been keen to raise as much money ourselves. For years a plant sale in the Market Place was an important source of income and social occasions featured annually. A summer evening party at the Upper Pavilion was held for some years and latterly our yearly winter warmer lunch has been a great success. An amazing contribution from a summer garden party at Redgate organised by the Stacey's has been a regular huge source of much of our funding. Sadly, the event has gone into retirement so fundraising has to step up a gear from now.
Over the years Uppingham in Bloom has been instrumental in the growing number of floral displays throughout the town. Market Place barrier baskets, wall baskets and tubs were the first to be installed. However, we wanted to do more, so over the years the projects have been many.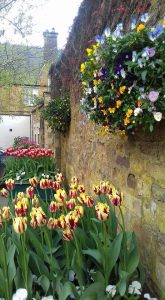 Daffodil planting on Ayston Rd, Stockerston Crescent, the churchyard, London Rd and Tods Piece
Tulips and crocuses on Ayston Rd and the A47 roundabout
Rose beds on  Ayston Rd, The Beeches entrance, Churchyard corner and Police station beds
Tree planting on Tods Piece in partnership with Uppingham Town Council to commemorate the Millennium
Raised beds on Baines and Freeway Travel corners and the Fire Station
Seaton Rd roundabout
Assisting with planting at our Primary school gardens latterly, the C of E and more recently at Leighfield
Leicester Rd Cricket Club planters and baskets
Keeping our town clean and tidy is a big task. We are thankful to the Councils for being instrumental in their funding of grass cutting, weed control and street cleaning. Litter control is of huge importance and to supplement the paid litter pickers, Uppingham in Bloom members are regularly to be seen clearing litter along with local school children and also the Scouting groups.
Our annual front garden competition has flourished for many years with prizes being awarded to encourage greater participation. In recent years we have had the privilege of Nick Hamilton from Barnsdale Gardens to judge our competition.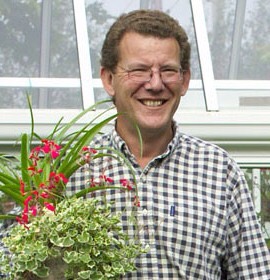 Major projects planned for the town should contribute to the amazing work our committee has helped to organise over the years. This year brings the development of the A47 roundabout (planning dept. dependant) with major replanting and architectural features. This is being sponsored by local business Smithers Pursloe.
In 2013 we celebrated our 30th year with a fundraising ball at the end of September, and hope to keep this as an annual event.
2015 saw our first entry into the National Britain in Bloom competition where we were awarded Silver Gilt in the small town category.
Seven years as category winners with silver gilt and latterly Gold awards have made us very proud, but, our proudest moment to date was 2017 at the Britain in Bloom awards where we achieved gold and joint small town category winners.